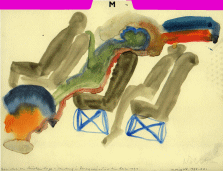 Note on the series South America: Medium: Mixed medium (water colour, pencil and gold ink) on paper, leather, stationary, restaurant/hotel bills and on the sailor passport of Han Onderwater, Waldo Bien's stepfather who had introduced him to the Holland America Line, 1967. Size: Specifications will follow in updating. Drawing 1994-045 shows the Rano Kao crater on Easter Island (also on photo below) This landscape, surrounded by the Pacific Ocean, is the source of the rock that, in 2002,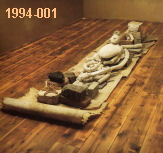 became part of the F.I.U. conference table Toolkit made for Triodos Bank Bristol, GB. The drawing is made on sheep hide. Several hides were bought in Cusco, Peru, and served later as pedestal/scroll in the Yemen sculpture Geschiebe II, (1994-001) The above watercolour on archival card M, was the first drawing in line, the starting shot. Made on the runway of Ascension Airport, right after landing in Paraguay. It is Bien's answer to Kloppenburg's question 'how he felt' after the long flight. The visit to Easter Island had been a 'must', after they finished the architectural commission for OIBIBIO (1993-022) where Easter Island sculptures had been installed to support a ceiling.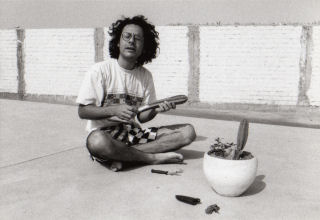 The resurrection of San Pedro, by Waldo Bien (1993).
Some 50 miles south of the capital Lima, along a steep and windy coast, a group of weathered vacation domiciles was spread along the cliff, surrounded by mean high dusty and colourless prefab walls. The ocean below was cold and deep. Some poor, wind- bent scrub had managed to find a place to hide. One could probably spend a lifetime strolling over this dirt road without ever feeling the need to look over one of those salted concrete walls. It would take more effort than most people would be willing to invest in such action. The wind was hot. We came to a large grey metal gate in one of those walls. Behind the gate there was an unpainted work by the Greek -Italian painter Giorgio de Chirico, born in 1888. It would probably have been one of his best paintings. After our friend Javier had opened the gate we remained for a minute or so standing in the gateway, each of us with different thoughts, before we entered a rectangular enclosure. It was filled with sun drenched salty sand and a small stroke of violet orange hard shadow. Cloudless blue sky stretched over us from wall to wall. A small friendly cottage was situated in the right corner: bricks, wood, sand, bamboo and blue and a concrete floor around it. Part of it striped with the shadow of bamboo sunblind installed above. It looked like fresh harrowed land. On this land stood a sun-striped cactus in a sun- striped pot. Absolute and hard like figures on a de Chirico painting. I looked at the key that rested in my hollow hand, then to the Chirico, and back again, closed my hand around the key, then I made a balancing gesture as if guessing its weight. "She was right," I said loud to myself. "Who was right?" Javier asked half absent-mindedly. "The woman last night who gave us this key."
We had strolled through old sections of Lima to Mira Flores on the way to the house of a friend who had invited us to a party. In her luxurious apartment good-looking young men and women had been sitting on embroidered cushions and done their best to keep up the pre set cultural tone. Some exquisite pre Columbian pottery and sculptures rested on hand planed black wooden shelves along the walls. I was welcomed to touch whatever I pleased. Some very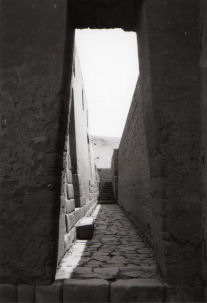 fine pieces went through my hands. Than reached for a sculpture of a copulating couple. When I was holding this in my hands, my host came and stood next to me. She was a breathtaking beauty. Some minutes ago I had catch myself in the imagination of kissing her. Now she stood unexpected at closest range. "It's a flute, she spoke with a captivating soft voice. She took it out of my hands and brought it to her lips. A deep mysterious tone followed. With a smile and the moist imprint of lips she handed it back. Later, saying goodbye at the door, she looked at me saying "You will like it there. If you feel like it, leave a sign of your presence for me on the wall."
I tasted salt on my lips. Javier was walking around and dancing pirouettes in slow motion. "Two full years I lived here with her," he said. "With whom?" "With Isabella, the woman who gave us the key last night. Two years in solitude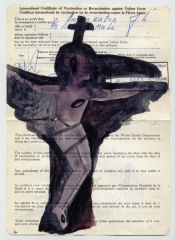 with her and the sea. The house was our baby. After we had received our degree in architecture we build this place here, with our own hands. The land is owned by her father." "How was it?" I wanted to know. "With her?" Javier looked at me with sparkling eyes. " Too crazy to be true. The other houses were not built yet. After two years, one morning, we looked at each other, fell into profound kissing, than closed the gate behind us and left. We both went in different directions. No one has been here since". He stood in front of the cactus now. "This is San Pedro. The day before we left we ate him and he has taken us on a trip, showed us the death of the last great Inca Atahualpa at Caxamalca. And look, after all those years San Pedro is back again. I will ask him to take you and me on a trip together this time" The purple orange shades had gone when San Pedro finally answered. He had said 'Yes" But, certain conditions had to be fulfilled. This night San Pedro wished to absorb the moonlight. Javier carefully took the flowerpot and walked with it to the mid of open space. When he had put the cactus down, I could hear de Chirico's gasping for oxygen. San Pedro's promises and our expectations made him the centre of our universe. After the last sunrays disappeared we stayed with him till midnight, then went to sleep. At sunrise Javier was stepping in circles around the cactus, with bended knees and against the clock. "Now San Pedro has reached his full erection. We are allowed to prepare him for his journey. We have to help him, lend him our hands" Only his peel we are allowed to take. San Pedro would give us his thorny coat. The stripped martyrs body had to be buried in the shade. At that moment a painting I had seen years ago, in a museum in Bruges, Belgium, dropped into my head, the judgement of Cambysius. It shows a man stretched out on a table, alive. An executioner strips of his skin. When I saw it I felt instantly sick, imagining the pain of the martyr. Now I was standing here with a knife in my hand, in virgin daylight, becoming executioner, peeling the saint. I experienced the cruel painting from this new point of view and shivered. San Pedro was another, different case. San Pedro had been 'asked' and he had given permission to commit this deed. Could it be that Cambysius had also chosen his cruel destiny out of free will? What a grotesque idea. I feared that I would never get out of this painting again that kept spinning circles in my mind, mixed itself with all other thoughts until some hours after I died. I observed how Javier performed the sacrifice of San Pedro with a short ritual cut. The cactus was laid down on paper. "Now we have to remove San Pedro's coat." I tried to imagine terrible pain mixed with the delight of satisfaction that this would be the fulfilment of destiny. "…And bury his body" I heard Javier saying. Colours, odours and echoes of a market bounced trough my head. A labyrinth of ponchos hanging on a clothesline, mingled with deep warm Indio voices and the slushy smell of hanging fruit. Several curious horns sounded, granting time something intrusive and compelling. To me it sounded like a ship. Instinctively I started to walk faster and came through a small church. I entered and sat down. A little enamel plate, screwed onto the bench, insisted that I was Don Martinez de Vera Cruz. At my left, high on the wall, the Man of Sorrow hung in a broad polished golden framework. Hermetic square. A long line Indio's in worn out ponchos stood under the crucifixion that was painted in a Spanish style. Their colourful pointed hats hanging down, flesh tightly stretched over their skulls. Beating drums, playing on flutes of triton shells. I heard how the anchor was pulled up, bringing all suffering to an end. I was last in line to join the communion. "Corpus Christi" and another step forward. The cold undressed corpus of San Pedro lay in my warm hands. Javier buried the white flesh in the shade of the wall. Spread the blessed peel on a paper to dry in the sun. Exhausted I went to bed where I kept thinking about Corpus Christi. I had a dream that night. A very old Indio woman showed me her indigo and saffron striped tongue and asked for some money. When an invisible hand had woke me up we were more than thousand miles away, on the island Rapa Nuï, Easter Island, and surrounded by Pacific Ocean. Next to
me was Javier, sitting straight up in his sleeping bag. It was still night. "San Pedro has called us "he said. "I recognised his voice". We slip into our cloth. Standing in the darkness in front of our tent, he pulled out the paper with San Pedro's coat. "We don't have to take anything with us. San Pedro will take care of us. Today we are his guests". Underneath the filigree sealing of mango, avocado, bamboo and palm leaves, we placed the bitter green on our tongues. Nazca, Titicaca, Kalasayaya and the funnel called La Paz, all the time we had been waiting for a sign from San Pedro. The Saints smaragd green coat had been spread around us and the thorns pressed painless into our flesh. Our senses became disrupted and golden waves and salty tongues lamed speech.